Butler-LS -
Short Blocks Kits (Unassembled)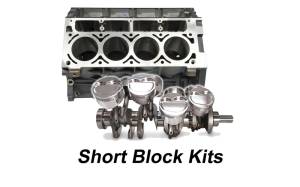 Looking for an LS part and don't see it on the site? Need a rotating assembly, short block kit, or machine work? Our LS team here at Butler is shipping high performance GM/LS engines, kits, and parts all over the world.
Butler LS offers high quality short blocks to fit any application or project. Our short blocks are in race cars and classic muscle cars all over the world. We can custom build any combination the way you want it with the power and reliability you know from Butler LS. Our short blocks are 100% machined, documented, and blue-printed to our stringent specifications. We always use top quality parts from top manufacturers you can trust. We protect your investment by doing what it takes to build you a quality short block no different that what goes into our race cars and daily drivers. Let Butler LS build your next short block.
Browse Short Blocks Kits (Unassembled)
Products
Description:
Butler LS 408ci Short Block Kit IV Iron LQ4LQ9 Block Choose Crank, Rod, and Piston 4.000" Stroke, 4.030" Bore, 6.125" Rods Block Machined...
More Details »
Item #:
BLS-408-Street-SB
Please Call for Availability
Description:
427 CI Short Block kit 4.000" K1 Crankshaft 6.125 K1 H-Beam Rods w/ARP2000 Bolts Wiesco 4.125 -8cc Flat Top Pistons 11.1 to 1 C.R. With 68cc Heads
Please Call for Availability
---
---
More About
Short Blocks Kits (Unassembled)
Contact Us today for any GM/LS engine, engine kit, rotating assembly, or performance parts you may need. We are here to help.
Tel: (931)829-2200
Fax: (931)829-4627
2786 Hwy 43 North 
Lawrenceburg, TN 38464
Email: info@butler-ls.com

The Butler Process starts here...
There is no denying that Butler Performance is your go-to place for LS performance engines. What makes them so special you may ask? The first answer to that is the knowledge of our engine builders. They have been building engines for many years. Not only have they been building them, they have been racing what they build. We have also been researching and developing new technologies and processes for getting maximum results that many others try but cannot imitate. Not every little detail is laid out here of course. We have proprietary technologies and processes that only Butler Performance uses to make our engines outperform the competition hands down. These things, in combination with our engine building expertise and racing heritage, make Butler Performance your only destination for performance Pontiac engines. With all that being said, let's take a look at the in-depth process your engine goes through to become a High Performance Butler Engine.
Ready to Build
All our blocks, assemblies, and kits leave our shop having been custom designed, put through the "Butler Process", and ready to build. We never simply sell kits with no assistance. You have Butler Performance backing you in every step of the way. From knowledge to tech help, we are here for you or your engine builder of choice. We have worked with many engine shops around the country and are always glad to lend a hand in helping them take the "Butler Kit" to a performance engine specially designed for your project.

Butler Performance Services
Need us to go the extra mile and create the engine of your dreams? Our custom engine shop can do just that. We have professional engine builders working day and night to build "Butler Quality" and tested engines for performance street cars, classic cars with restoration engines, muscle cars, and racing engines. Our engines meticulously go through each of the steps in the Butler Process then tested and dynoed to ensure the numbers are as expected. All engines are cleaned and crated, ready for delivery anywhere in the world.
Butler LS and Butler Performance Pontiac builds engines for many projects. Due to the overwhelming popularity of our industry leading performance engines, we take each build in the order it is received. Our engines are meticulously crafted by our professional engine builders, using many of Butler's own processes that have been researched and developed over the years. Obviously we can't build every engine in the world, but we take each project seriously and do not mass produce sub-level quality products.

Because of demand, if our lead time is outside of your projects timeline, we can customize any of our rotating assemblies or engine kits to meet your performance needs. Be assured that every kit we sell is put through the same meticulous "Butler Process" as the engines we build here in-house. Plus we will provide all the needed specs and technical help to you and/or the engine builder of your choice. We work with many top quality engine and machine shops across the country and will be glad to work with yours. Here at Butler our main concern is that you end up with the engine you desire.
Quality parts

All Butler Performance engines are built with only the finest, high quality parts in the industry. We partner with companies such as;

Edelbrock
Comp Cams
ARP
Lunati
Callies
Clevite
Eagle
Scat
Ross
Butler Performance Products (BPP)
and more

We have many parts manufactured, by some of these companies and others, to our strict specifications. These are our Butler Performance Products.

---

Engines are only as good as each part that is contained in them. If one small part fails many things can happen that you definitely do not want. The engine no longer runs causing you to be stranded, it can cause damage, you can lose the race........

Our name and reputation is on the line. We partner with only the best companies that produces the world's best parts. This is not only your engine but our own engines that we put in our everyday cars and race as well.