Butler-LS -
Carburetors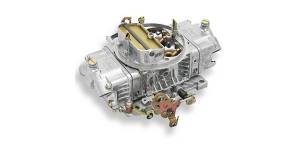 Looking for an LS part and don't see it on the site? Need a rotating assembly, short block kit, or machine work? Our LS team here at Butler is shipping high performance GM/LS engines, kits, and parts all over the world.
Call us at 931-829-2200 today for any LS need.
The carburetor is one of the most important parts of your performance engine and provides the needed air and fuel to make power. The goal of your carburetor is to the mix the perfect amount of fuel and air for the engine to operate efficiently and create the power needed for your classic muscle car, everyday driver, pulling truck, or race car. No matter what you put it in, Butler LS carries top brands like Holley, Edelbrock, Demon, and more to provide you high quality carbs for your engine.
Browse Carburetors
Products
Description:
770 CFM Street Avenger Carburetor w/ Electric Choke 4150 Series Square Bore 4-Barrel, Vacuum Electric Choke Dual Inlet Silver
Please Call for Availability
---