Engines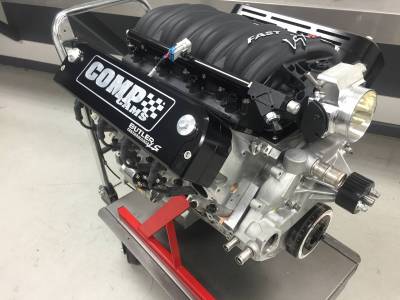 24 photos

Comp Cams RHS Tall Deck LS7
Comp Cams
1969 Camaro Restoration

454 cu.in. Naturally Aspirated LS7 with RHS Tall Deck Block
Butler Performance has been in the business of building performance Pontiac engines for over 20 years. With the release of the later model Trans Am and GTO's, Butler made a natural progression to the build these newer performance engines on the LS platform. In 2015 Butler expanded to a new location with more room and added a team dedicated to the the LS platform.
The timing couldn't have been better for Comp Cams, an absolute leader in the performance parts industry. Comp has partnered with Butler Performance on many projects and reached out to Butler about its 1969 Camaro convertible slated to be restored. They needed a mean, performance street engine to power it. The teams partnered up and envisioned a naturally aspirated Butler LS swap street engine that could push out upwards of 700hp. Once all the details were finalized the build got underway.
First up was the RHS Tall Deck block. This is a high performance aluminum engine block for GM LS applications to meet the needs of race and street performance engine builders alike. It features a raised cam centerline and outboard priority main oiling to allow rod clearance for a 4.600" stroke and to minimize windage in the crankcase. And for quality control assurance, RHS® conducts a CT scan (similar to a medical CAT scan) on each block to ensure maximum casting precision and consistency.
Next was the rotating assembly. Comp and Butler decided to go with a Lunati Signature Series 4.250" crankshaft, Lunati 6.400" I-beam rods, with Diamond custom pistons. This combination works well with the RHS Tall Deck block to accomodate the larger stroke. With precise machining and balancing, this assembled short block became the foundation for a strong, dependable LS engine.
The valvetrain one of the next big decisions and Butler chose a Comp Cams Custom Grind Hydraulic Roller Cam, RHS 291cc CNC-Ported LS7 Heads with Titanium Valves, Comp Cams Dual Springs, Comp Cams Aluminum Shaft Mounted Rocker Arms. We knew with this cam choice we would sacrifice peak horsepower numbers in exchange for an extremely flat and broad torque curve which is exactly what Comp Cams needed. This valvetrain combination was chosen for durability and longevity, while producing tons of horsepower it still has the streetability Comp was looking for to make their '69 Camaro a driveable, Pro-touring machine.
The engine was coming together well. Next up was the FAST 102mm LS7 Intake, that is stronger and lighter than aluminum aftermarket intakes, with the FAST 102mm Throttle Body. These were installed to supply the high flowing heads with much needed airflow to produce the power levels we were looking for. The user tunable FAST XFI Sportsman in combination with the EZ-LS Ignition Controller was used to control the ignition and provide a custom tunable fuel and timing map. The FAST C-Com tuning software wasa used to tune the Sportsman and EZ-LS Controller and is a very user friendly and easy to understand system to achieve optimal hp and torque without losing any streetability.
The crowning jewel of the remarkable street beast was the custom engraved valve covers with custom hidden coil brackets. They are made from billet aluminum and anodized black. The custom engraved "Comp Cams/Butler LS" logo finished it off nicely.
So here it is, a streetable, naturally aspirated, 700hp Butler LS perfomance engine to power the all new, fully restored 1969 Comp Cams Camaro.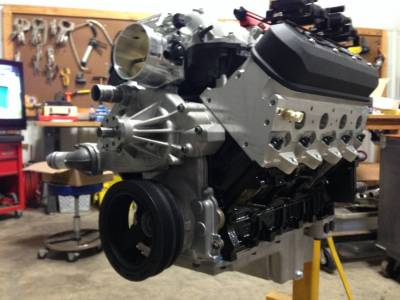 4 photos
Custom Cast Iron 6.0L
Butler 6.0L,
600 horsepower 408 cu.in Stroker
This is a stroked 6.0 cast iron block using a Butler Performance LS balanced rotating assembly featuring a Scat crank and rods with custom designed ROSS pistons with stainless steel top ring set from Total Seal . We used a very streetable BP LS custom grind hydraulic roller cam from Comp Cams. The valvetrain featured Comp Cams short travel lifters and Ultra Gold aluminum rocker arms. Butler chose the FAST 102mm cathedral port intake with FAST billet aluminum 102mm throttle body, FAST XFI EFI system, and XIM ignition box tuned by Travis @ Quillen Motorsports Engineering. This combo makes awesome power with daily driver street manners and extreme durability!
This mean Butler LS engine is the choice for the ultra popular LS swap, where people update their old small block with a newer fuel injected/self tuning LS platform. This engine will find its way into a 1955 Chevy Bel Air. Updates to this car will include a 5 speed transmission, Fab 9 rear end with a 4 link set-up, tubular a-arms and coil over's up front. This project will enable the car to be a daily driver, with lots of power to spare.