Butler-LS -
Other GM Carburetors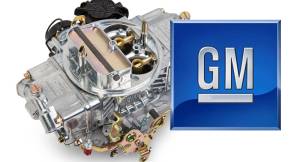 Looking for an LS part and don't see it on the site? Need a rotating assembly, short block kit, or machine work? Our LS team here at Butler is shipping high performance GM/LS engines, kits, and parts all over the world.
Call us at 931-829-2200 today for any LS need.
Butler LS has the best transmission and drivetrains in the LS market. We can help you complete your LS project or upgrade with a manual or automatic transmission from TCI and California Transmissions as well many other performance LS parts specialists. Our transmissions and components are warrantied from our manufacturers and will give you the dependability and performance you are looking for in your LS car or truck. Shop transmissions and drivetrain only at Butler LS.
Browse Other GM Carburetors
Products
Description:
770 CFM Street Avenger Carburetor w/ Electric Choke 4150 Series Square Bore 4-Barrel, Vacuum Electric Choke Dual Inlet Silver
Please Call for Availability
Description:
Carb Caps Fits 4150 Carbs Sold Each
---