Home
-
Return to Previous Page
Butler LS Unassembled 408ci Street Performance Short Block
Butler LS 408ci Short Block Kit
IV Iron LQ4LQ9 Block
Choose Crank, Rod, and Piston
4.000" Stroke, 4.030" Bore, 6.125" Rods
Block Machined In House by Butler LS
Option of Stock GM Main bolts or ARP Studs
Create a custom package tailored to you
All short blocks undergo the "Butler Process"
Please Call for Availability
(931)829-2200
Description
Butler LS 408ci Short Blocks are fully balanced and blueprinted using only the best components in the industry. Our 408ci short blocks can produce upwards of 800hp on a naturally aspirated build. Our kits feature Eagle, Scat, or Callies Compstar crankshafts balanced right here in our own professional machine shop with choice of rods and pistons for your desired application. Our short blocks come with Ross Racing pistons in a variety of types including dome, flat, and dish. These piston options show compression ratio for each based on a head with a 64cc combustion chamber.
Butler LS short and long blocks can be ordered two ways; fully assembled or in kit form. Our kits fully balanced and machined and are put through the "Butler Process" same as any assembled kit or engine. We fully document and check all tolerances and fitment. We then ready it to be shipped to you or the engine builder of your choice. We also provide any needed information for your builder and will assist them though the build with any questions they may have. They are 100% backed by Butler LS.
The Butler assembled short and long blocks are put through this same process but are then professionally assembled using our tried and true methods found in all Butler street and race engines. Our professional machinists and engine builders have been building high quality performance engines for over 20 years and we have built our name in racing and muscle cars by providing unparalleled high performing engines and assemblies around the world.
---
All blocks come standard with the necessary oil and coolant plugs already installed. Ross Racing pistons come with 1.2mm 1.2mm 3.0mm rings. Gas nitrided top ring, napier 2nd, and 3 pc oil ring. Stainless Steel top ring and gapless ring upgrades available.
---
Eagle
Crankshaft
Forged 4340 steel crankshafts from Eagle Specialty Products are great for high performance applications. They feature non-twist forging, go through a multi-stage heat-treatment process, and are stress-relieved and shot-peened. These cranks are X-rayed, magnafluxed, and sonic-tested, so you know you're getting a top-quality piece. Each crankshaft has cross-drilled and chamfered oil holes for improved oiling, a .125 in. radius on rod and main journals for increased strength, and the journals are precision-ground and micro-polished to less than 5 R.A. A target bob weight of +/- 2 percent greatly reduces balancing time.
Rods
The Eagle ESP H-beam connecting rods are a 2-piece, forged, vacuum-degassed, 4340-certified steel construction that provides outstanding strength, while still weighing much less than stock rods. Each rod is multi-stage heat-treated, X-rayed, sonic-tested, magnafluxed, 100 percent machined and then shot-peened to stress-relieve the metal. The rods have precision cap alignment sleeves to positively locate each rod cap, silicon bronze bushings for floating pin models and are available in stroker models that allow additional cam-to-rod clearance for large stroke combinations. They come with 8740 rod bolts and can be upgraded to 230,000 psi rated ARP 2000 rod bolts
Scat
Crankshaft
Nitride hardened to increase strength and longevity, these standard weight crankshafts are forged from 4340 steel with large micropolished journals. They feature lightening holes in all rod journals, plus straight shot oil holes. Units can withstand the abuse of high-compression applications and street or race engines with mega horsepower.
Rods
SCAT Connecting Rods feature the same high-quality craftsmanship that has led us to the forefront of the performance industry. SCAT connecting rods are made from a 2-piece chromoly steel forging to ensure maximum strength and durability. We offer a complete line-up for Small & Big Block Chevy, Chevy LS, Small & Big Block Ford, Ford Modular 4.6L & 5.0L, Ford Vintage Model A/B/T, Flathead,Small & Big Block Chrysler, Pontiac, Sport-Compact & many more. From Stock Replacement I-beam, Pro-Stock I-Beam, Pro-Series I-Beam, Pro-Sport H-Beam, and Ultra-lite weight Q-Lite Stroker H-Beams, SCAT can get you connected. All of our connecting rods are proudly precision machined and finished at SCAT by master machinists, on state-of-the-art equipment.
Callies Compstar
Crankshaft
Finished and inspected by Callies, Compstar cranks maintain proper geometry and design. Hardened with deep nitride, Compstar cranks are ideal for all types of abusive racing environments. They are available in a wide variety of strokes and journal sizes to fit most common cubic inch requirements. All rod journals are drilled and counterweights are profiled for piston clearance. Sometimes you need to stay within a budget, but with Callies' consistent grind and polish, as well as their precise stroke and index, you don't need to compromise on quality.
Rods
Better by design, Callies Compstar connecting rods offer high performance and a trouble-free engine build. Concerns about out-of-round, big-end bore sizing, repeatability, time-saving details, and upgrade costs are answered with Compstar connecting rods. Their forged 4340 steel rods are put through a lengthy stress-relief process and burnishing of threads and bolt spot faces to ensure dimensional repeatability, no matter how many times rods are torn down and reassembled. Pin bushings are chamfered and honed, parting line edges are generously chamfered, and bearing locating tab slots are deburred, all in an effort to save you time and trouble. ARP 2000 bolts and stroker clearances are standard with Compstar rods.
Ross Racing Pistons
Drawing on over 30 years of piston design and manufacturing for all forms of motor sports, ROSS Racing Pistons has met the continual need for the most advanced forged pistons in the racing industry. Utilizing some of the most sophisticated design and analysis software, along with ultra modern CNC machining centers, ROSS has developed a dedicated line of forgings.
All Ross Custom Pistons include the following feature:
Pin fit at no extra charge.
Lock removal indents.
Accumulator groove.
Forced pin oilers when applicable.
Radius valve reliefs.
No extra "engineering" charge for special designs made from sample pistons, drawings, computer discs or emails.
---
The Butler Process starts here...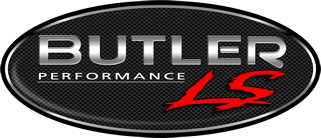 There is no denying that Butler Performance is your go-to place for LS performance engines. What makes them so special you may ask? The first answer to that is the knowledge of our engine builders. They have been building engines for many years. Not only have they been building them, they have been racing what they build. We have also been researching and developing new technologies and processes for getting maximum results that many others try but cannot imitate. Not every little detail is laid out here of course. We have proprietary technologies and processes that only Butler Performance uses to make our engines outperform the competition hands down. These things, in combination with our engine building expertise and racing heritage, make Butler Performance your only destination for performance LS engines and assemblies. With all that being said, let's take a quick look at the in-depth process your assembly goes through to become a High Performance Butler assembly.
Rotating assembly consist of the crankshaft, connecting rods, pistons, rings, pins, and bearings. Butler Performance doesn't simply install or sell rotating assemblies out of the box. Most suppliers and builders simply "box balance" based on manufacturer supplied weights.
All rotating assemblies sold by Butler Performance, regardless of brand, are balanced in our shop by our experienced machinists.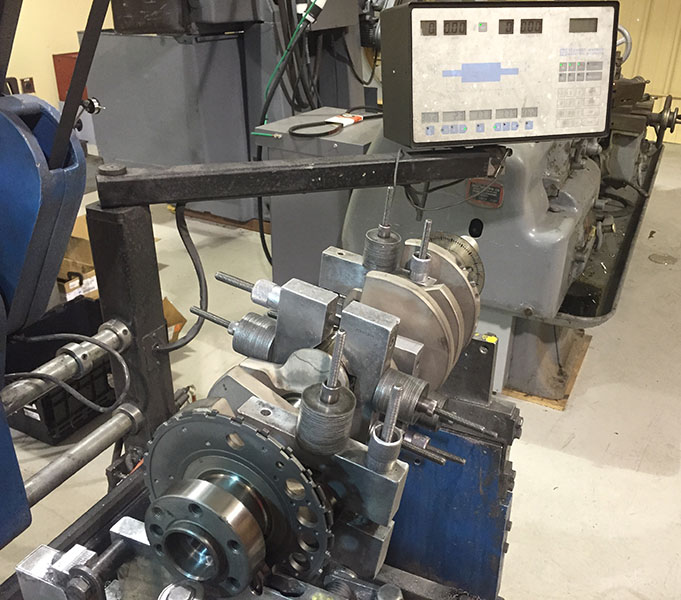 We don't take anyone else's word when it comes to the parts we stand behind. We put all rotating assemblies through the Butler Process for quality and performance. Our internal balancing process ensures each part of the kit is put through a multi-step inspection process. We then weigh and pin fit the rods and pistons as needed. We computer balance the crankshaft to the rest of the assembly. This process ensures that all the parts of the assembly are matched to form a "Butler Performance" worthy assembly. We then document all weights and information on a balance card that ships with the assembly.
These Butler LS short blocks are custom designed for your application. When you submit the form below, one of our trained techs, based on our years of knowledge, research and development, testing, racing heritage, past satisfied customers, and tried and true Butler Performance builds, we will assemble a package from your desired specs and parts selected.
We will email or call you with a custom package. Due to the fitment, blocks, strokes, bores sizes, tolerances, tested applications, etc. our package will give you the parts we suggest to make the short block a high quality Custom Butler short block. One we will stand behind for your desired application.
Specifications/Information
LS/LQ 6.0L Cast Iron Block

Gen III LS1 Style Block- up to 2004. Will use all necessary LS1 covers, gaskets, and components and will use the LS2/LS3 cylinder head bolts.
Gen IV LS2/LS3 Style Block- 2005 and up. Will use the LS2/LS3 lifter trays, timing cover with cam position sensor, valley cover, etc

Eagle, Scat, or Callies Compstar Forged 4340 Crankshaft
4.000" Stroke
4.030" Bore

Eagle, Scat, or Callies Compstar H-Beam 6.125" Rods
24x or 58x Reluctor Wheel

Pistons:
Ross -3.5cc Flat Top, 4.030 Bore, 11.80 to 1 CR w/64cc
Ross -10cc Dish, 4.030 Bore, 10.97 to 1 CR w/64cc
Ross -18cc Dish, 4.030 Bore, 10.10 to 1 CR w/64cc
Details
BLS-408-Street-SB

BLS-408-Street-SB
New
Customer Reviews
Total Reviews (0)
You must login to post a review.
---