Butler-LS
»
JP Performance

JP Performance make a large range of timing chain sets for V8's, six and four cylinder engines. They are machined from billet steel and turned for greater accuracy on CNC machinery. Jp Performance and Butler LS, partners in quality and performance for timing sets for LS and GM applications.
---
JP Performance Categories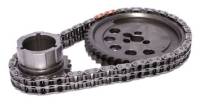 Looking for an LS part and don't see it on the site? Need a rotating assembly, short block kit, or machine work? Our LS team here at Butler is shipping high performance GM/LS engines, kits, and...
More Details »
---